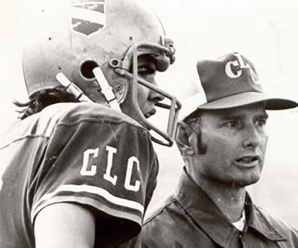 Every high school football player that has achieved a reasonable level of accomplishment and feedback that he has "great potential" looks to go to a school with a winning coach and a football tradition of winning. Although the player's size gives him more schools to pick from because the biggest universities get the biggest players and "the cream of the crop", there are nevertheless hundreds of small to medium sized colleges and universities all across America with very good coaches and long histories of "football tradition".

How was it then that Robert Shoup was able to convince so many young student athletes to come to Cal Lutheran at its very inception, with no traditions, no record of any kind, and offered by a coach with no college experience, and yet create a "culture of winning" that has endured for fifty years?

First he went to the Disneyland Hotel and rented a conference room "to till the fertile soil of the emerging football empire of Orange County. The expanding suburbs had developed into an untapped reservoir of ball players. There was a new generation of kids who had grown up among the orange groves and were weaned on Little League baseball and Pop Warner football and good coaches and involved parents. Shoup sent out hundreds of letters to Orange County prep athletes, inviting them to share snacks and soda pop and hear about an enchanted football kingdom in the Conejo Valley. When he'd asked the administration for a couple hundred bucks to cover the food, he hoped to be speaking to maybe 30 or 40 prospects. Instead, his presentation was witnessed by almost 200 senior athletes that all shared a similar passion for pigskin. And all they knew about Cal Lutheran was that the Dallas Cowboys trained there.

Accompanied by coach Don Garrison and a slide show, Shoup knew he had to give a hell of a speech. He had a tough sell, Cal Lutheran didn't even have a stadium, the fans that might come to watch would be sitting on bleachers that had been picked up in rented trucks from Pasadena and had to be returned before the Rose Parade. The weight room was a former chicken coop, smaller than the ones these kids had trained on in high school. As far as wild college experiences might go, Thousand Oaks pretty much slept thru most of the 60s, the closest form of entertainment would be a unique little zoo called Jungleland, or a campus Yam Yad celebration gone bad in the spring. Oh, and we didn't exactly offer scholarships ... but, by the way ... it's the summer home of the Dallas Cowboys.

What he did have to sell was a dream. To those who had tasted the glory that rose from the well-earned victory of a hard-fought battle, he offered a chance for more. A chance to be the best. He wanted the few, the proud, the brave ones who might end up warming the benches of a bigger school to think of a starring role in a smaller venue. He offered them a chance to play as freshmen, and a chance to reign as champions, National Champions, to wear the crown that says they were the best small college football team in America. And they heeded his call. Of the 66 Best players in Orange County, 10 were admitted to CLC, with over 30 applying. Among them, seven prominent athletes from the Southern California All-Star Team ended up on the Kingsmen team; including Jim Bauer, Richard Kelly, Gary McGinnis, Mike Hunkins, Pat Shanely, Matt Montgomery and John Russell.

The Kingsmen, true to Shoup's word, were National Champions in just a few short years … and so were the Dallas Cowboys!

In his time as head football coach at California Lutheran University (CLU) (1962-1989) Shoup amassed 184 wins and a .662 winning percentage. Twenty-one of his 28 seasons as head football coach were winning seasons at CLU. Shoup was voted NAIA District 3 Coach of the Year nine consecutive years, was named the NAIA Western Coach of the Year three times, and inducted into the NAIA HALL OF FAME in 2009.