This website section serves to remember and to honor Cal Lutheran football players who are no longer with us, but whose memory and contributions are the foundation of who we are as a football tradition and as a University. Although no longer physically with us, we will not forget these fallen Kingsmen. Their commitment and contributions while attending Cal Lutheran, what they learned through their experiences at Cal Lutheran and then applied in their lives in their own unique ways has truly brought honor to our school and to all of us.

There are many to remember, including Ron and Roy Behnke, Eddie Gee, Artie Green, Rick Scott, Billie Glover, Bill Harrison, and Jim Bauer, whom we profiled earlier and which can now be found in the INDEX Section of this website.

TIM SAVAGE, 1979-1980 is another Kingsmen well remembered by his peers in Cal Lutheran Football and by so many others since he was taken through a heart attack in 2005, just eight years ago, and thirty-three years since he graduated. Although I never met Tim, I was made aware of him through a memorial posted in his name by his wife, Diann, in the first 5th Quarter Football Club banquet program two years ago.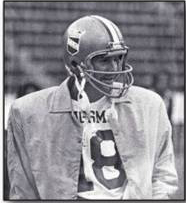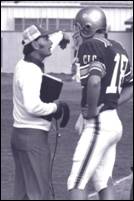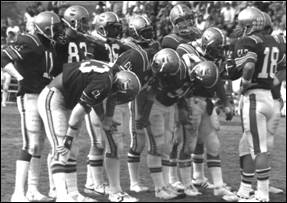 I first contacted his coach, Bob Shoup, to get his perspective on Tim. In Bob's words, "He was a natural leader, worked very hard and was one of the toughest players I ever coached. Everybody liked Tim…and we all lost him too early." I then contacted a number of his teammates from his playing years and many were unaware that Tim was gone, but all expressed how wonderful it was to play with him. The principal message that came through "loud and clear" was that he was …such a likable guy… who instilled confidence in them. Again, in Bob Shoup's words, "…a natural leader."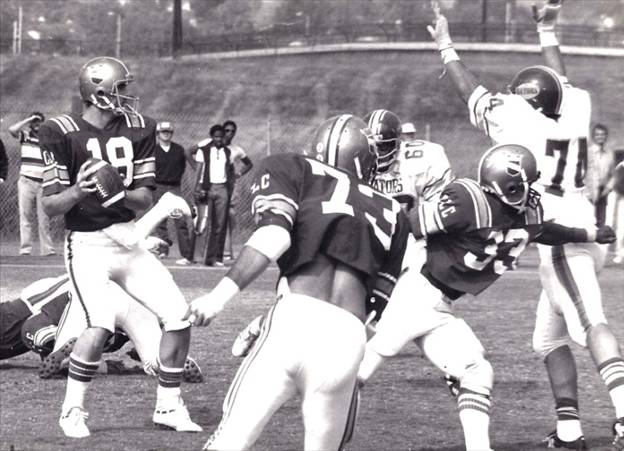 Kingsmen Quarterback Tim Savage (18) drops into the pocket against San Francisco State as Kerry Waltrip (73) and Rudy Pittman (33) look for defenders to block.

I then contacted his wife, Diann, who gave me "…the full story" about Tim. After I met Diann and realized who Tim had chosen to spend his life with, it was readily apparent how much of a Kingsmen he was: when Kingsmen see a good thing…they go after it!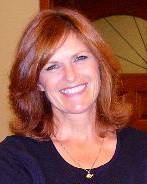 Diann Savage today
"I first met Tim when I was working the Scandinavian Days booth in the gym at Cal Lutheran during a cooking demo.  He came up and sampled one of the items I was cooking.  Next thing he did was cut roses in front of the Book Store (he borrowed the scissors from my mom) and brought them into the Book shop where I was working and asked me out for a date to the Football Banquet. He figured roses were my favorite, and he was right!"

"Tim loved football and thought so highly of Coach Shoup and his teammates. He would go out after practice and run the CLC hill to make sure he was in shape for the team."

"Tim and I had three children, Jack 27, our first child, is an avid skier (he won the aerial ski jumping contests at our local mountain so many times, they finally made him a judge instead). He is also an outdoorsman like Tim, working on the family cabin,  shooting guns and river boarding.  He has always had the same qualities fairness and taking the leadership role in his daily life of work and home."

"Barbara is 25 and is one of the youngest managers in Lowes (San Jose).  She has her dad's hard work ethic and uses his saying "Your work is your autograph" in her job. She was an avid downhill ski racer in high school and a discus thrower.  Barbara took on the passion of the guitar like her dad and enjoys music."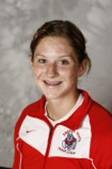 Sarah at Fresno
"Sarah 23 is married and blessed us with two children.  Sarah was the valley champion in the pole vault in high school for 2 years and finished 9th in the state.  She went on to pole vault for Fresno State, clearing 12-7.5 (3.85m) to qualify for the NCAA West Regional ... hit the qualifying mark at the Cal Poly Dual, the second meet of the season ... was the WAC's seventh-best vaulter ... named Academic All-WAC.  Sarah is like her father, a determined athlete; she was also a slalom ski racer and it was so fun to see father and daughter race."

"On Friday June 3, 2005 we were all at the State Track meet (Sacramento) watching Sarah compete in the pole vault. The next day, Saturday, Tim spent time with Sarah's daughter Barbie working on a custom home he was building in the mountains.  That Saturday night he spent time with Jack and they went to the movies. Later that night he went to bed while I was still at the high school waiting to pick up Sarah when the track meet bus arrived. Sarah and I then went home….to find that Tim had had a heart attack and died in bed."

"We had been married 22 years and our construction company of fine home building had just taken off.  We had 22 employees and several custom 4,000 square foot cabins being built at the time. How good of a craftsman was Tim? He was well-known for his craftsmanship of home building and was sought after in this industry. Even today, eight
years later, his custom cabins are marketed under his own name as 'A Tim Savage Custom Cabin'." Shown below is one of Tim's creations."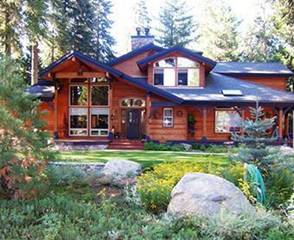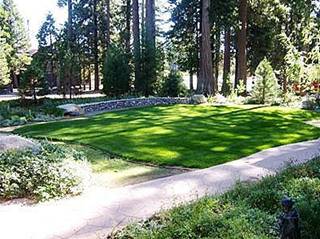 Tim's legacy includes his beautiful family who carry on his many gifts, fond memories of Tim by his teammates and his Coach, his integrity and his great work ethic which he displayed in football and IN his chosen life work of home craftsmanship as shown in the homes he built and the motto he lived by: His work was his autograph.